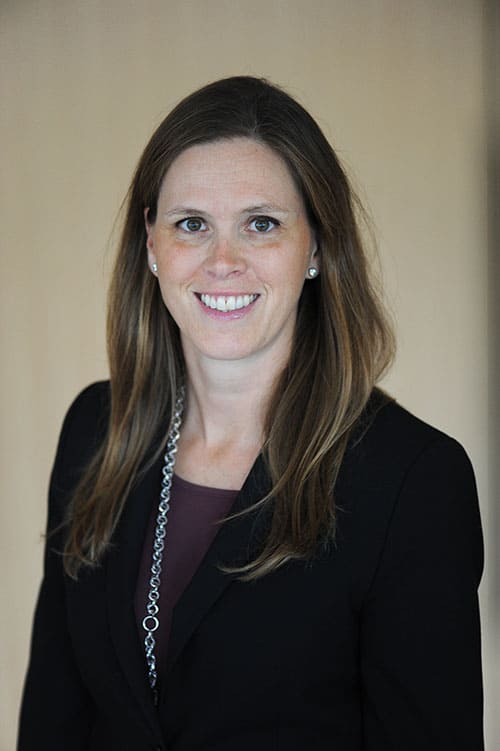 Seanna Millar joined SickKids Foundation in 2004 and has held progressively senior roles over her career with the Foundation. In her current role as SVP, Corporate and Community Partnerships, Seanna is responsible for leading a broad fundraising portfolio including building multi-faceted partnerships with corporations and community stakeholders.
As a seasoned fundraiser, Seanna has developed her career at the Foundation over 17 years, cultivating gifts through philanthropic, cause marketing and sponsorship channels with Canada's largest corporations, as well as driving revenue growth in the community partnerships and signature events portfolio.
Seanna is also an active community volunteer and currently serves on the boards of Young People's Theatre, Parachute Canada and the Association of Fundraising Professionals Greater Toronto Chapter. She is an active runner and a proud mom of two teenagers.
Recently, Seanna sat down with Level5 Managing Partner Hua Yu to discuss her career path, her passion, and her perspective on women's leadership.
---
Hua: How did you get interested in building a career with social impact?
Seanna: My upbringing really defined me. From a very young age, it was apparent to me that my parents were very involved in volunteerism, they were chairs of boards, and volunteers at many organizations and non-profits. They encouraged me to give back to our communities and society from an early age. In high school, I had a spare period on Friday afternoons, and my parents said, "Look, you need to use that time in a meaningful way." I ended up taking American Sign Language with my mother and then volunteering in a classroom for children with hearing loss. Although I didn't think of it as a profession at that time, it was clear to me that making a positive social impact was an important way to be part of a good society and a good community. It wasn't until after university that I had the opportunity to get involved in a volunteer committee that was for a fundraising gala for Camp Oochgeas, a camp for children with cancer. I had no idea what I was doing, I was scared and out of my comfort zone, but it was a tremendous experience and I loved it. I asked the Chair of the gala, who at the time worked for the MS Society, "Do you think you could make a profession out of this?" And she said, "Actually, we're hiring, why don't you put in your application?" And that was the start of fundraising for me.
People say, "Fundraisers say they fall into their career, and it's not a great way to talk about the profession. "But the truth is that I did fall into my career, and truly, when I opened that first check, I thought, "I'm getting paid for doing this? I would volunteer to do this." That desire to contribute, and having that purpose is what gets me out of bed every day. I feel fortunate that what I do all day, whether it's easy or hard, has a greater purpose to it; that's been a great driving factor for me.
Hua: Asking people to give as a career is really a tough job that not many people are willing to take, what is it about fundraising that you love so much?
Seanna: It's the impact you can have. My first job at the MS Society was true grassroots fundraising 101. I was a coordinator for the MS Read-a-Thon, a huge fundraising program for MS Society in schools across Canada where students collected funds and made contributions to help people living with MS. My first three months on the job were cold calling 1400 schools across the province of Ontario, so I got a first-hand experience picking up the phone and making the ask.
"Fundraising is really about storytelling in a way that makes an impact on people."
At the end of the day, even as a senior fundraiser, this is the basic tenet of fundraising: Can you pick up the phone? Can you succinctly sell the mission that you are supporting? And, can you close the deal? I had to learn that very quickly. The next part of the job was going out on the road and presenting to these schools, essentially storytelling.
Fundraising is really about storytelling in a way that makes an impact on people. What is MS? What does the money do? And can you modify it for the audiences that you're speaking to – in this case, for children aged 8-15. The next part of the job was counting every penny in those pledge forms. We would sit around this huge table, open every envelope and count every dollar. You can just imagine what grade school kids put in envelopes that they send back to the schools, with gum stuck to them and toys stuffed in the envelopes. It showed me the value of a penny, the value of a dollar, and how it all added up to raise millions of dollars for the MS Society.
Hua: Cold calling is an important professional skill, not just for non-profit fundraising. What do you think is the key to a successful cold call?
Seanna: I think part of being successful is, what's your elevator pitch? Can you tell it in 30 seconds, and can it be compelling enough to move someone to either A, listen to you more or B, take a meeting with you? I'm lucky to work with an amazing brand at SickKids, where it's rare that someone would hang up on me or say, "SickKids doesn't do important work." I have the benefit of being heard, which is great, and that's again why brand building is so important.
As you start to work on bigger gifts, we move away from cold calling and encourage the engagement of volunteer networks. But we're still doing it — cold-calling and cold-emailing. I even got a response to a cold reach out this morning. I still get that same rush of, "Oh my gosh, they responded! They're going to at least hear our story." You have to truly believe in the cause that you're raising money for, and for me personally, healthcare and children have been the space that I feel most dedicated to.
Hua: Many of us aren't familiar with what a career path in the non-profit space looks like, can you share what your professional journey in the space has been like?
Seanna: My start in some really great charities was helpful, at the MS Society and at Sunnybrook Foundation. I also had an opportunity when my mentor switched from the not-for-profit into the for-profit world and asked if I would consider applying for a role under her at Foresters, a financial services company with a huge CSR platform. While I loved giving away money to great charitable causes at Foresters, and supporting many children's hospitals across North America, I didn't feel the same connection to the cause. It was through that two-and-a-half-year experience at a for-profit that I realized my heart, and soul was in the not-for-profit world. It's where I felt I belonged and where I felt I could do my most meaningful and purposeful work. That's what took me back to SickKids Foundation, where I've been so fortunate to have grown over 17 years. There's not a lot of people these days who can say they've stayed with an organization that long.
"I believe when you find an organization that aligns with your values and allows you to grow and learn, you don't leave. SickKids attracts amazing people, both at the hospital and at the foundation. I have a huge passion for science and health care, and I am fueled by all the interactions I get to have at the hospital."
I started my career at SickKids Foundation on the event side, working mostly with bereaved families who were hosting fundraising events, which was a very emotional role. Here are families who have lost their children, and yet they're giving their heart and soul to hosting community events in support of SickKids, to keep the legacy of their children alive, and to ensure that other families don't have to go through what they had gone through. I was very lucky in that role to feel a true connection to the cause, but after I had my own two children, I found the emotion a bit too difficult. I was really fortunate to be offered an opportunity to cross the fence into the corporate team. Even though at the time, the lateral move was challenging for me to make, it was the best decision I ever made in my career.
The new team provided me with a whole new skill set and an opportunity to build my career. One of the pieces of advice I give to my team when they are looking for career advancement is, "Look within the organization, we're lucky at SickKids Foundation compared to many small non-profits." There are moves laterally that you can make that will then impact your career long-term, and we shouldn't discount the value of that type of opportunity.
I believe when you find an organization that aligns with your values and allows you to grow and learn, you don't leave. SickKids attracts amazing people, both at the hospital and at the foundation. I have a huge passion for science and health care, and I am fueled by all the interactions I get to have at the hospital. At SickKids Foundation I get to be a solution strategist, I take the desires and needs of a corporation and match them with an area of the hospital in need of funding. At SickKids, we treat every single disease, we've got education, we've got research, we've got care, and all those opportunities have allowed me to stay constantly challenged to find the right solution for the partner in that moment.
I've also been very fortunate to have our CEO, Ted Garrard, who has been a tremendous mentor and has cultivated my career in such a wonderful way. I recall Ted saying to me at a time I was feeling hungry for a more senior position, "Seanna, I may not have a new position for you right at the time you want it, but if you trust me, I will continue to look for opportunities for growth for you."  I always loved his openness to showing me that my career path was possible at SickKids, even if I might have to be patient at times.
Hua: You've been a leader in the fundraising space for some time now, how have you seen the landscape evolve?
Seanna: It is vastly different than when I started 17 years ago. I think a number of things have changed, and one is the value of the brand, brand building, and the storytelling. The value of storytelling en masse has become more important for charities. Through the work of our B Strategy and Communications team, SickKids has done an amazing job to galvanize the community at large in the power of what a donation to SickKids can do. It's about helping people understand the impact giving has on the children, physicians, nurses and healthcare providers that they're supporting. Secondly, the digital space has exploded in the last five to ten years in terms of how people want to engage with a charity, how they're willing to make a donation, and how they want the ease of donations through an online platform.
On the corporate side, there has also been an evolution. Corporate giving used to be more of a check writing exercise, where one executive would write a check and pat someone else on the back to say, "I gave this here, and now you need to give to my charity of choice". Now it is about a much more structured corporate social responsibility platform, where corporations have had to say, "What do we really believe in? What are the values we have as an organization, and what do we want to communicate to our employees?" Now, with more rigorous mandates around ESG it's not just about ticking the boxes, but truly saying, "As an organization, how are we moving the dial on our environmental, social and governance mandate? How does philanthropy fit into our social pillar, and what is the impact reporting we are going to provide back to our stakeholders, our customers, and our employees to ensure that we are staying true to that mandate?"
Even on our major gift side of things the accountability, the transparency and the reporting that individual donors are requiring of their gift in order to make strategic decisions in their philanthropy is tremendously important.
Hua: Sounds like increasingly non-profits have to think about how to grow the same way businesses do? Has there been a transformation for SickKids Foundation and what's that been like?
Seanna: For over a decade now, SickKids has worked hard to align ourselves more with corporations, to see ourselves as a business, to make the investments that we need to make in order to continue to grow as a leading charity. As an organization, we have been very fortunate to have a tremendous group of board members, senior leaders and CEOs at their own companies and large Canadian corporations, who have pushed us to recognize that investment in our brand and in our activities is important. Because they are tremendous business leaders, they've challenged us to be on the leading edge of transformation, whether that's in the digital and technology space, in the brand space, or in the customer experience space.
Hua: What advice might you give to Canadian corporates on building really effective and meaningful partnerships into their CSR?
Seanna: We're always interested in building partnerships that are multi-pronged because we feel we can build cohesive partnerships with an organization that touch upon their corporate promise, their employee engagement, and their customer purpose. This is how we can really move the needle.
We recently created a partnership with Sobeys. They made a significant commitment ma to supporting youth and family mental health at the children's hospitals across Canada. With a massive staff complement, Sobeys realized that mental health for their employees and their families was going to be an important area to focus on.
Sobeys really looked at their partnership holistically. First, they said, "If we don't have the mental health supports in place for our employees, how can we make an announcement of supporting mental health across the country?" They looked internally first, with the approach of "we better have our ducks in a row before we do this externally." Once they had that in place, they partnered with the hospitals externally to provide much-needed funding to tackle the issue while also thinking about how they leverage this for our customers, for our employees, for our vendors?"
I've been really impressed with Sobeys, and I believe that's how corporations can be authentic. They can't just say, "We're going to give the dollars to get it done." It's about embedding it in everything that they do and live, and ensuring that their stakeholders, employees, customers are behind them and bought in.
"We prioritize education to ensure we're giving our leaders and our staff an open space to talk about DEI challenges in our business. I'm constantly challenging myself to learn more and to be able to be a better leader from a DEI perspective."
Hua: Canada has evolved too over your 17 years as a fundraiser, how have you seen the non-profit sector adapt to embrace diversity and inclusion?
Seanna: We've all been pushed hard given the events of the last two years, and I think charities are embracing this in two ways. The first part is about how we ensure diversity and inclusion within our staff, our boards and our activities. Then the second part is about how we ensure that we're embracing diversity in the donors and communities that we're reaching out to, we need to be open and authentic to all the different communities we support.
On the first part of it, we quickly realized that we needed to hire a manager of diversity, equity, and inclusion, who has been amazing in terms of bringing the education, the learning, the activity, and the rigour around measuring if we are moving the needle. As one example, SickKids Foundation signed the BlackNorth Initiative led by Wes Hall and we are tracking our progress on that. We prioritize education to ensure we're giving our leaders and our staff an open space to talk about DEI challenges in our business. I'm constantly challenging myself to learn more and to be able to be a better leader from a DEI perspective. The organization also looks to our donor database and said, "How can we ensure that we're reaching out to the communities that we serve at the hospital?" We serve an immensely diverse Greater Toronto Area and beyond. From a patient perspective, our emergency department delivers services in more than 18 different languages.
So far, we've really focused on fundraising within the Chinese Canadian community and the Black Canadian community, areas that we felt that we weren't authentically working with. I believe our activities in those communities have been well-received because we've focused on engagement, rapport, and respect versus fundraising to start. We recognized that we needed to have those core values in place before anyone would ever give us any money.
Our Brand Strategy and Communications team just undertook an audit of all our marketing materials. Are we being representative of the communities in which we serve? That's been a very interesting exercise as well.
Hua: What about gender representation? The non-profit space is often perceived to be women-dominated, but even in this female-dominated sector, there aren't that many women leaders at the top. How do you see female leadership in the non-profit sector?
Seanna: It's really interesting, because I have a team of 45 people, and I don't think I have more than five males on my team at this point in time. I have two pieces of work to do. One is to ensure that fundraising in the not-for-profit sector is open to males, and that we are seeing men enter the space at the more junior levels and cultivate that throughout. The other is to mentor women to ensure that they move into senior leadership positions. I think that there are a variety of reasons why women may be self-selecting out, and then a whole bunch of reasons why women are hitting reaching a glass ceiling.
I do think there's more women at the top in the not-for-profit sector, than in the corporate sector, but still, we have a lot of work to do to ensure that women don't feel Imposter Syndrome, and to ensure women understand that they can do the job. We have to support a more flexible work environment, respecting the fact that women are often dealing with different pressures at home and different responsibilities. And so, I think we have a job as women to lift up other women, to mentor other women, to amplify those women's voices around the table, and also in the not-for-profit sector, ensure that we're listening to the and cultivating the male perspective, especially as they're coming into the organization.
I also think that women traditionally have been drawn to more caring careers. If I think even about the percentage of women nurses at SickKids versus male nurses, more than 75% of our nurses would be women. Though it is changing I think there is more work to break down some of those preconceptions to make it a more open environment. From a pure diversity perspective, we haven't been very good at attracting talent from BIPOC communities into the fundraising space. I sit on the Association of Fundraising Professionals, and we have a huge mandate to make sure that when we are attracting members, putting on educational programs and conferences, that everything we do is open and inclusive to all.
I think the not-for-profit sector has been seen as a lower-paying sector. There are people out there who feel fundraisers shouldn't be paid at market rates and non-profits should be fully volunteer organizations. There are 85,000 registered charities in Canada. Some of them are run with volunteers on a low cost per dollar, and I would challenge, are they really delivering much impact? I would suggest that when you're running what is an almost a $200 million organization like SickKids Foundation, while volunteers are a tremendously important part of our organization, you need a strong staff team too. Fundraising needs to be seen as a paid profession that delivers true value and return on investment.
"I think we have a job as women to lift up other women, to mentor other women, to amplify those women's voices around the table, and also in the not-for-profit sector, ensure that we're listening to the and cultivating the male perspective, especially as they're coming into the organization."
Hua: What guidance do you have for early career professionals interested in building a purpose-driven career, what kinds of opportunities do you see for them?
Seanna: There are lots of opportunities for purpose-based careers both, in the for-profit and the not-for-profit sector. Many companies are more committed to purpose-based activities within the corporate sector to attract employees who want to be aligned with those values. I was at a conference where I met a young woman who had joined a book publishing company. I asked her why she had chosen the company and she said, "I knew they were involved in charity, and I wanted to ensure that I was aligned with an organization that had strong CSR mandates or ESG mandates. That was part of my research that I did on the companies before applying."
In terms of those that want to get into non-profits or not-for-profit sector, I've always talked about how volunteering can open so many doors. I think giving back to an organization in a volunteer role shows us the importance of being involved in our communities and opens the door to meeting leaders within those organizations. Getting some on-the-ground experience shows your commitment to the not-for-profit space and gives you skills that you may not develop otherwise got through education or other activities.