COVID has impacted our economies, ways of life, and day-to-day emotions. As a business leader, do you really know what drives value for your customers – those most powerfully felt drivers of brand choice? Given customers' ever-evolving drivers, how will your business adapt its operations, customer experience, and marketing?
Before you invest in your business during these times, make sure you understand what is truly driving your customers' purchase and loyalty decisions.
Generally speaking, consumers' COVID-related emotions have continued to be overwhelmingly negative.
In our first update at the beginning of May, we summarized the results of a consumer sentiment tracker published by one of our research partners, Hotspex. Our May publication emphasized the importance of understanding your customers' most powerful emotional and rational drivers of choice during this time of rapid and profound change. After tracking consumers' sentiments over the past few months, we've come to an interesting conclusion: consumers' emotions aren't changing as rapidly as many predicted. In fact, it seems that consumers' emotions are relatively fixed (for the next year or until vaccination). Rather than preparing for constant consumer change, brands need to develop a firm understanding of the lasting impact that this pandemic has had on their customers.
Week over week, since the beginning of April, the top 14 (and 22 of the top 27) emotions related to COVID have been negative, including (in order): Disappointed, Uncomfortable, Irritated, Disliking, Dissatisfied, Frustrated, Bored, Disbelief, Mixed feelings, Confused, Unhappy, Worried, and Unsure.
While these emotions may have marginally decreased in intensity throughout June and July, they largely tell the same story. Consumers are focusing on negative emotions; they need the support of brands to bring elements of positivity into their lives.
After comparing the most recent results from our North American sentiment tracker, we discovered that while Canadians and Americans share similarly negative emotions towards COVID, Canadians have higher levels of intensity surrounding select positive attributes and lower levels of intensity surrounding select negative attributes. Observing the most notable attribute gaps below, you can see that Canadians feel more Interested, Connected, Alert, Compassionate and Fine, while also feeling proportionately fewer negative emotions across attributes such as Unhappy and Disgusted.
Top Gaps in Emotions as a result of COVID-19 | Canada vs. America | June 15th—18th
Positive Attributes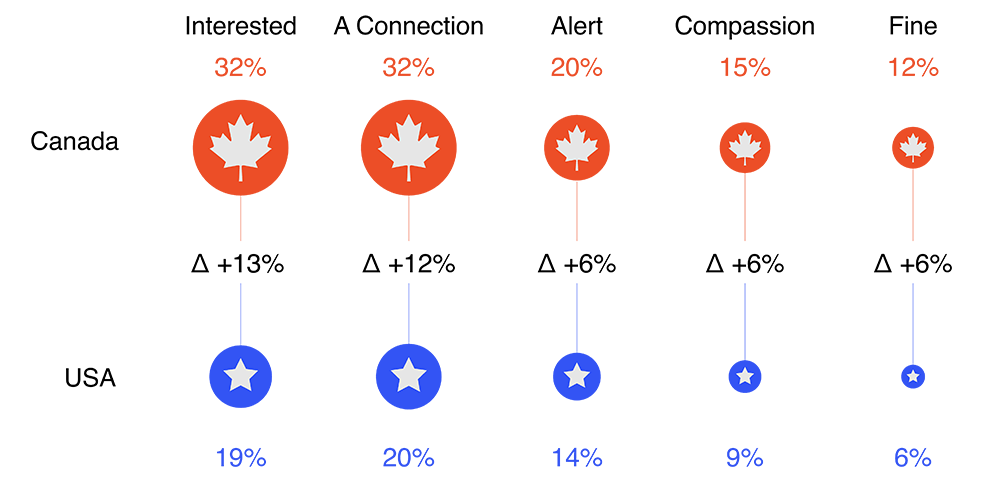 Negative Attributes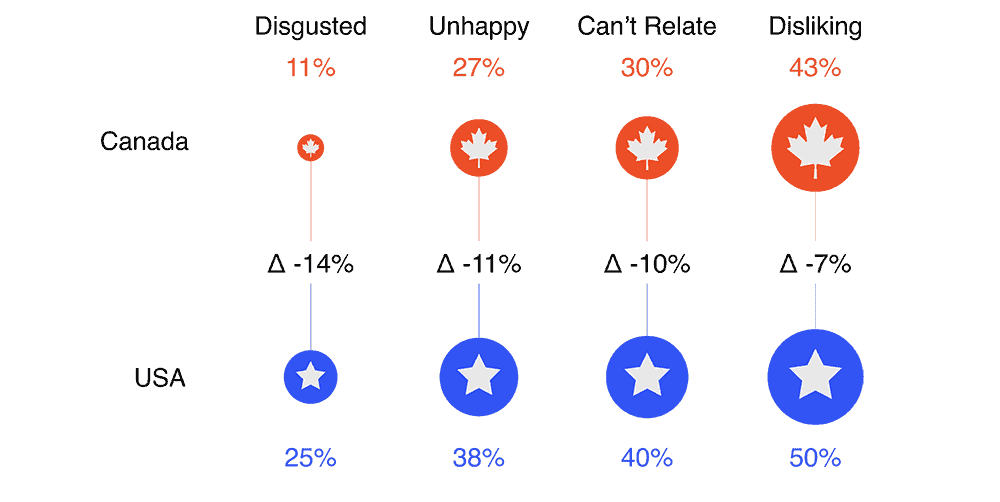 Though the differences between American and Canadian COVID related emotions may seem subtle, there are important implications to the ways that brands should manage their experiences, operations, and communications.
Canadians seem to have a far greater interest in brands portraying positive emotions associated with COVID – those that Inform, Reassure, and Inspire. Americans, on the other hand, seem more content with negative emotions and desire fewer positive emotions associated with COVID messaging.
Top gaps in emotions desired from a brand | Canada vs. America | June 15th–28th
Positive Attributes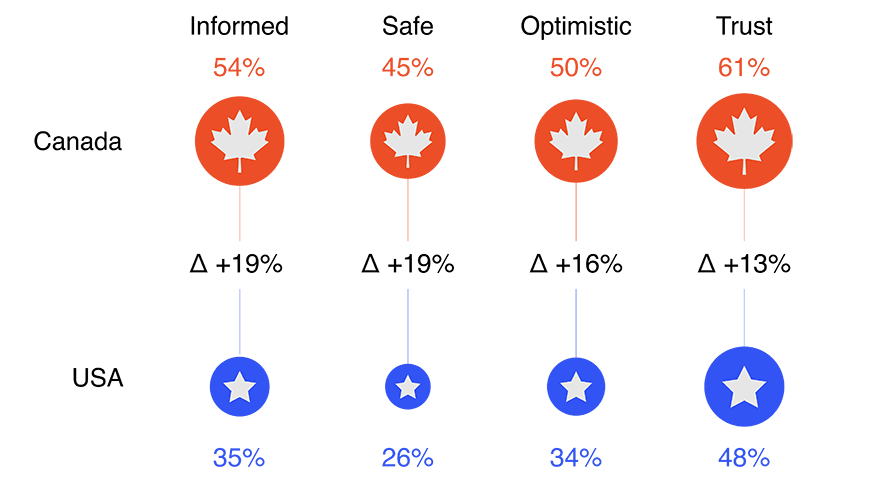 Negative Attributes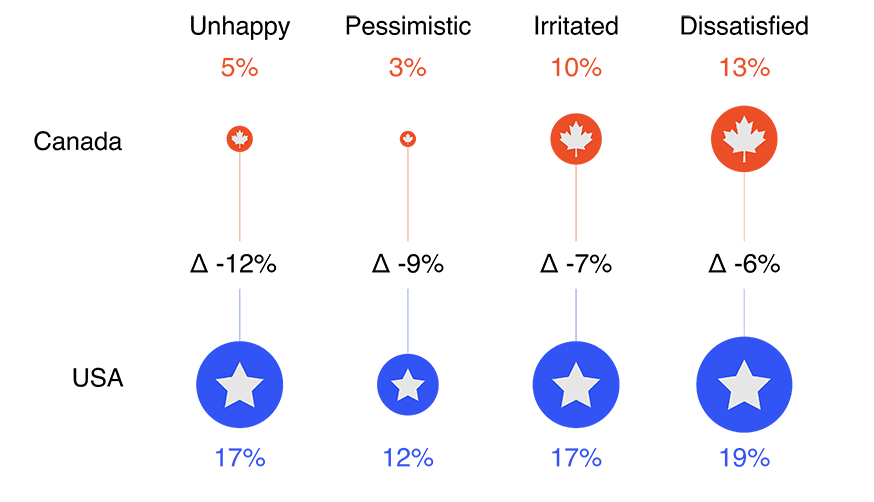 What does this mean for brands?
While these national differences may seem minor, they are incredibly meaningful in the eyes of the consumer. For brands that typically transfer strategies throughout North America, it may be necessary to decouple Canada and the US in order to be more relevant during the crisis.
Countries and organizations are making big pushes to support national and local businesses – the backbone of local economies. There is no better time for organizations to elevate their national affiliations or make a strong push to support small businesses in their major areas of operation as part of a strategic initiative. The Royal Bank of Canada (RBC), among many other partners, has recently partnered with the Canadian Chamber of commerce to form the "Canada United" movement – a program aimed at encouraging Canadians to "buy Canadian and spread the word". This movement provides meaningful support to small businesses through promotional content and monetary donations for social media activity. National pride and unity are critical as we focus on economic recovery; brands should recognize this while planning their immediate brand strategies.
---
After understanding the differences between the US and Canada, we were also interested in seeing if there were measurable differences across sectors. After analyzing four sectors, we found that consumers have very different needs depending on the product type/use, involved costs, and distribution channel.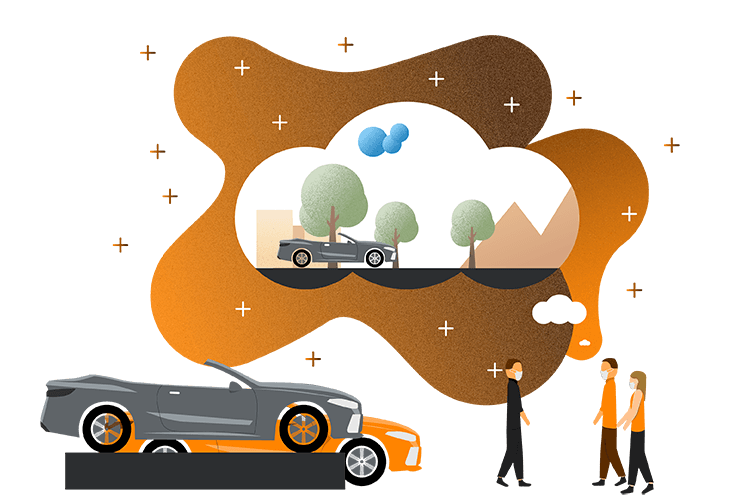 Automotive
Spending Level:
20-30% of customers indicate that they will postpone their purchases to next year or indefinitely, ~5% indicate that they will purchase but spend less.
Those that are still interested in buying want a brand that makes them feel inspired and motivated. They are looking for a safe escape.
Canadians that expect to purchase a car have fewer negative emotions related to COVID than those who plan to postpone their purchase.
What does this mean for brands?
Brands that traditionally rely on the qualities of safety and trust should dial them up even more; those that do not should find a way to emphasize these attributes throughout their customer journeys and marketing materials. If brands can deliver upon this promise consistently, they'll be in a better position to win. This is likely true across all consumer-facing industries, ranging from airlines to hotels to movie theatres.
Volvo, a brand that traditionally relies upon safety and trust, has decided to lean into this promise in a way that is relevant to the times. By pairing an aspirational video of local adventure with a powerful call to action: "Has summer ever been so important? Let's keep it safe", Volvo acknowledges the difficult time that we're in while offering a desirable vision of a safe escape enabled by their brand. Volvo captures the emotions desired by prospective buyers, while also encapsulating the core drivers of their brand value.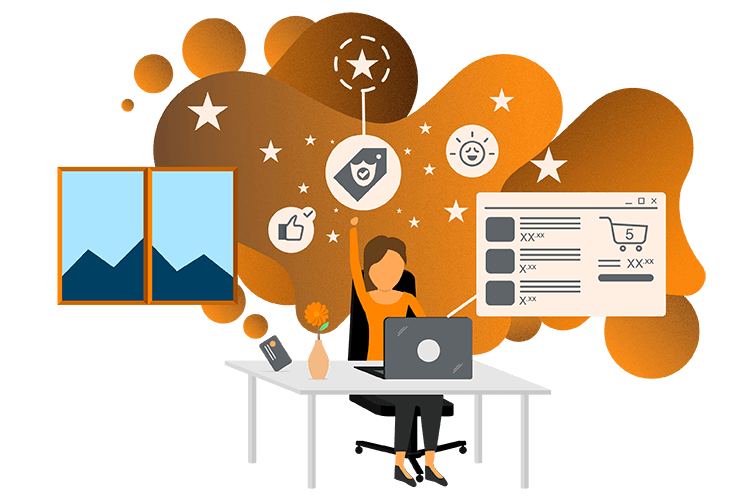 Retail – Apparel
Spending Level:
Decreased substantially by ~30%-50% but has increased.
Less than 1 in 10 customers are looking forward to in-store shopping. Similar to in-theatre movie experiences, people don't feel safe and have adopted online and at-home alternatives.
People simply don't feel safe going to indoor physical spaces. Those looking to spend more on apparel are looking for brands to make them feel motivated, accepted, and relaxed to overcome their safety concerns.
What does this mean for brands?
With such low intent to shop at retail, operators will have to bend over backward to engineer and communicate a safe shopping experience that consumers can trust.
As a result of these changing consumer behaviours and difficult conditions – what many are referring to as the "retail apocalypse" – many brands have been forced to file for bankruptcy, including Papyrus, J. Crew, Aldo, Lord + Taylor, Pier 1 Imports, JC Penny, and Brooks Brothers. Retail has been disrupted. Brands that can create an integrated strategy for a safe return will be best positioned to conquer this volatile timeframe. For example, stock selection and supply levels will be a major consideration as retailers think about styles that consumers need. With work from home continuing to be in effect, consumers' preferences remain shifted towards casual comfort rather than formal attire that would traditionally be in demand year-round. Other considerations related to the in-store experience such as shelf spacing and shopper flow will be paramount. Brands that can appeal to the needs of consumers both emotionally and operationally will be the ones to find success during this time.
Health & Beauty
Spending Level:
Decreased substantially initially (-17% to -21%) but is recovering slowly.
Canadians who are spending more on health & beauty feel far more negativity as a result of COVID than those who are spending less and are turning to these products for a positive escape.
Those spending on health and beauty are looking for brands to provide a sense of calm stability and show support for their customers through social programs/charitable activities.
What does this mean for brands?
Previously, 85% of purchases within this category were made in-store, primarily driven by demonstrations and product comparison. Health and Beauty brands will need to find innovative and effective ways to bring these experiences to life in a digital or socially distant environment.
Some brands, including MAC and L'Oreal Paris, are offering automated "try on" tools to allow consumers to test numerous shades of hair and make-up products simply via their smartphone. In addition, brands such as Kiehl's and Deciem are launching even more personalized virtual consultation experiences. This feature will allow retail employees to digitally connect with consumers looking for guidance in their shopping experience.
This category can be a rich source of self-indulgence and pampering for consumers looking for small emotional escapes or moments of comfort. While demand may suffer as the majority of the world's population stays at home and out of the public eye, it's important that brands bring their unique experience to life for those that are still looking to shop.
L'Oreal Paris Try On Feature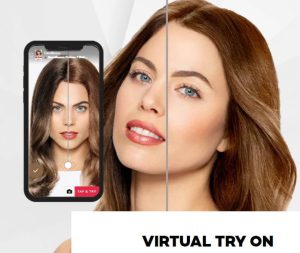 Kiehl's Virtual Consultations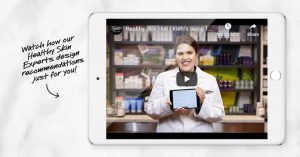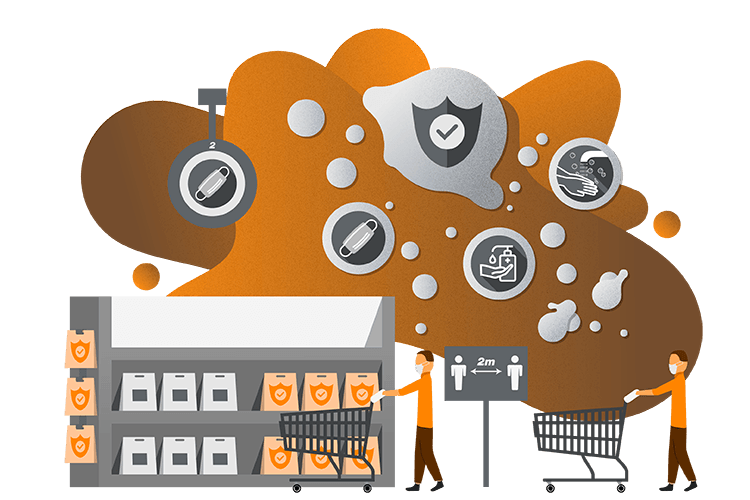 Food/Grocery
Spending Level:
Increased to +23% but steadily decreasing as patterns level out.
Canadians who are spending more on food feel more self-confident but have higher levels of discomfort than those who are shopping less, and therefore require safety to overcome these feelings.
Customers are looking for familiar grocery brands they can trust and that offer a safe and dependable shopping experience.
What does this mean for brands?
Consumer packaged goods brands that deliver trust and familiarity may be winners in the short term. Consumers may be more interested in availability, volume buying, and getting in-and-out of the store quickly versus comparison shopping: looking around for the deepest discounts. Brands must understand how to deliver upon both the emotional requirements as well as enable these stable shopping experiences through consistent operational implementation.
What has become clear through our continued consumer sentiment tracking is that the impacts of COVID are here to stay. The brands that put resources towards understanding the implications that this time has on their countries of operation, sector, and consumers will be the ones who will be able to continue delivering relevant promises and experiences.
At Level5 Strategy, we believe that great brands understand the Value of a Promise Consistently Kept™. As a business leader, do you understand how the most important drivers of value have changed as a result of COVID? How does your business need to adapt in order to deliver upon these drivers of value and consistently keep your promise?
Level5 Strategy will continue to track consumer sentiment and will measure what this means in the context of an inevitable second wave.
---
References