COVID-19 has resulted in physical distancing and a ban on mass gatherings in most North American cities. As such, the Sports and Entertainment industry has been severely impacted. Following the NBA, the NHL pressed pause on their season, a move that the NHL Players' Association called an "appropriate action at this time".
During this pause, the NHL has mostly leveraged replayed games and original content to keep fans entertained. While replays may satiate some extreme forms of hockey withdrawal, they can hardly be categorized as engaging fan-centric experiences. However, despite the ambiguity over COVID-19, some teams have found innovative ways to deliver a fan-centric branded experience.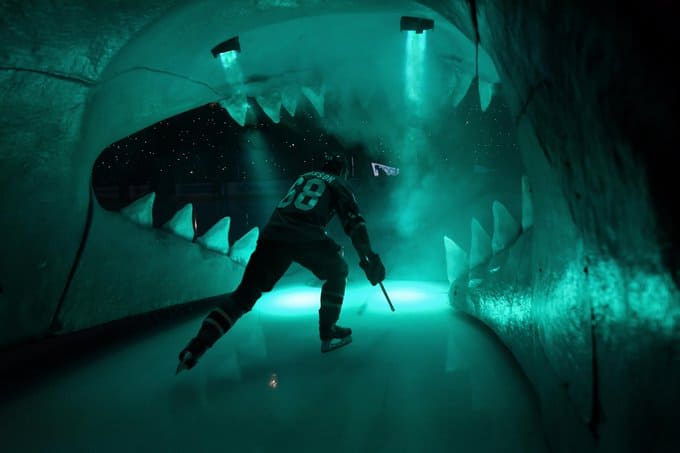 One of the franchises that continue to pioneer innovative ways to improve the Sports and Entertainment experience is the San Jose Sharks. In Northern California, the Sharks sit in one of the most competitive geographies in sports, enjoying the company of some of the stronger franchises across the NBA, NFL, and MLB. It is within this environment, amidst a global pandemic, and without access to their traditional product offering, that they push forward and challenge themselves to continue to find ways to deliver the experience of the Sharks brand to their fans.
Jonathan Becher, a former tech executive and current President of the Sharks mentioned the imperative of creating engaging experiences: "Regardless of the context we operate in, our strategy as a leadership team has consistently been to empower our employees to deliver innovative, positive experiences that create timeless memories for our fans. The context in which we do that has changed, but our focus has not." The Sharks' brand principles have also helped Jonathan and the Sharks during COVID-19:
---
"One of the principles we live by as Team Teal is being fearless. There has been no time in our almost 30-year history where that has been more important to our organization, our community, and our fans."
---
"We've pivoted our entire organization to focus on experimenting with new ways to deliver that 'Sharks Experience' and the feeling of being Teal Together through entirely digital mediums" shared Doug Bentz, VP Marketing and Digital. "While we maintained the core pillars of our marketing strategy, the focus on digital allowed us to be more inclusive of ideas and concepts from across the organization. We know that what we're trying is new to both us, and our fan base, so to ensure we deliver on our promises we have created constant feedback loops with our fans to track quality engagement and share real-time feedback so we can quickly adjust and improve our experience as we learn more."
"It's amazing to see how well Team Teal has banded together as a truly cohesive team to not just make the best of a tough situation but to do our very best under some pretty adverse circumstances. We've just launched a new digital community, we're experimenting with ways to engage fans in completely digital ways, and we're continuing to invest in supporting our community through these tough times" explained Stacy McGranor, Customer Experience Program Director.
The emotional experience of a fan inside the Shark Tank is a difficult one to replicate during the best of times, but the Sharks are up to the challenge. Although it doesn't scale to the electric atmosphere that 17,000 fans create, there is no better example of reimagining that personal fan experience than one fan had when he was surprised to see that when he had tuned in to Twitch to watch a 'live' Sharks NHL 20 game simulation, he was actually skating on the ice with some of his heroes.
Before each simulation, the Sharks select 5-7 fans to take roster spots on their team. In this case, fans' wildest dreams came true when they became a San Jose Shark for a game. Ironically, one fan's avatar suffered a game-ending – and technically career-ending – injury during the game, so his time in the sun was short-lived. Turning off injuries was a lesson learned for the digital team, but the Sharks were quick to turn even this experience into a positive one. After the game, this fan received a personal phone call from Doug Wilson, the Sharks GM, with a get-well message. In the same game, one of the other fans had his big-league moment when he scored the game-winning goal in overtime; he received a congratulatory post-game call, further enhancing an experience he will no doubt remember for some time.
In addition to creating innovative new ways to engage their fans, the Sharks continue to push forward with ways to deepen their community-oriented strategy and 'Hometown Heroes' brand by supporting those in need. They recently launched the 'Sharks Sports & Entertainment COVID-19 Relief Fund' which will provide individual grants to the +1,800 part-time staff who are unable to work due to event cancellations and facility closures caused by the pandemic. As a true demonstration of their values, all of Team Teal – ownership, players, coaches, front office, corporate partners, and supporters – have already come together and pledged $200,000 to launch the fund.
The San Jose Sharks are a great case study in organizational agility and adaptability during difficult times. Within one of the industries most significantly impacted by the COVID-19 crisis, they've found a way to rally as a team and pivot their efforts to provide innovative new ways to engage with their fans, and consistently keep their brand relevant in the San Jose Market.