The severity of COVID-19 has pushed the government to close all non-essential physical stores, forcing many small and medium-sized businesses (SMBs) to enter "'survival'" mode. "Cash flow, even in a good economy, is often a struggle for small businesses,"1 says the director of research and policy analysis for the NFIB. COVID-19 is taking this cash crunch to the next level.
Consumer Spending Habits During COVID-19:2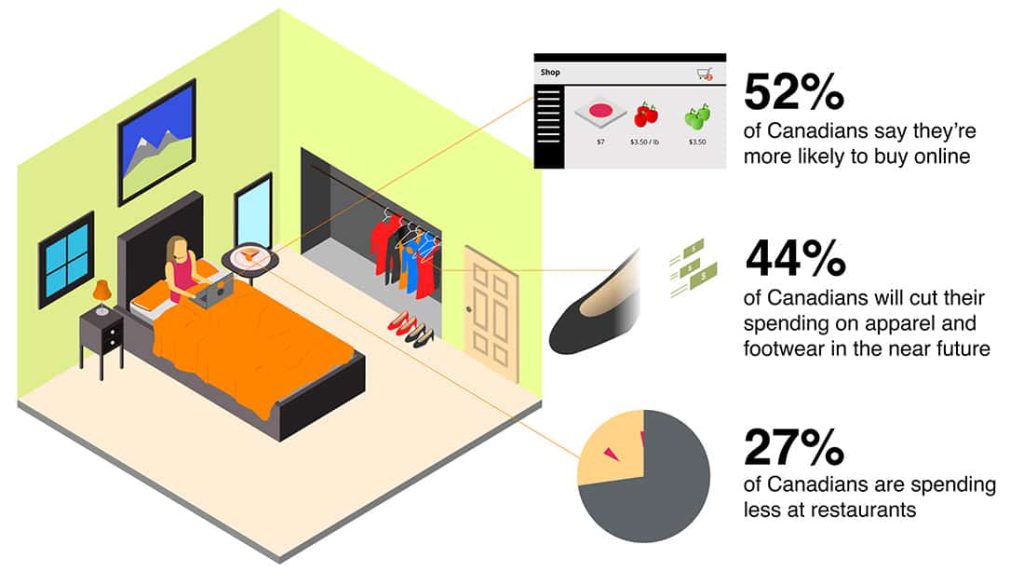 In addition, it is important to be alert for the "aftershock" of COVID-19 on the retail space. Canadian consumers may likely continue to act cautiously long after the pandemic subsides by reducing their discretionary spending on things like fashion apparel, fitness, leisure activities, etc. In other words, the consumer behaviours adopted during COVID-19 may be here to stay well after it's gone. While the prospect of building an online presence and ecommerce platform may be frightening for many, it has become more of a "'need to do" than a "want to do." Going online will not only help SMBs navigate the severe situation we are in today, but also better equip them for the future.
---
Corinne Pohlman, Senior Vice-President of national affairs and partnerships at the Canadian Federation of Independent Businesses, says that "the situation [COVID-19] we are finding ourselves in today is probably going to encourage some of those [small businesses] to look at their options [and consider going online]… it could potentially transition some people who were previously not really interested in expanding their channels."3
---
Since COVID-19, hundreds of SMBs have begun to offer virtual or online alternatives to their physical store offerings. It's fairly simple to go online, but it's hard to differentiate from the many online competitors. Thankfully, there are many easy to use website designers such as Wix and Shopify to help businesses get started on designing their website and navigation experience. Using these tools makes coding a website easy, but replicating the in-store consumer experience and exclusive feel that your SMB encompasses is the real challenge. It is crucial for SMBs to conduct consumer research into what consumers value most about their offering and replicate that within their virtual channel.
Some other helpful starter tips include:
Start small: start with free or low-cost alternatives for website designs and test a few products/service offerings. Provide tutorials and extra time to answer consumer questions about the virtual offerings.
Test, learn, improve: technology makes it easy to make changes and adapt where necessary; communicate with consumers and consistently request feedback to ensure you are fulfilling your promise to the market. Be open to adapting where needed to ease the transition of physical offerings to virtual.
Differentiate: differentiation is critical! Post attractive product images, clear descriptions, and an easy to use interface that makes it easy for consumers to navigate through the website. Leverage your advantage of being smaller by creating a more exclusive and personal connection with your consumers.
The case study below illustrates a small business adapting during COVID-19 and building an ecommerce platform using the starter tips above.
---
Case Study – Nancy Buckle, owner of Namaste Yoga Studio
While offering virtual yoga sessions has always been a priority for Buckle to implement, she continued to push off developing an ecommerce platform with each month that passed. Upon the shutdown of her studio, Nancy felt that "we have to adapt, we have to change quickly to service people's needs,"4 so she created a website to host online yoga sessions through Zoom. While the target remained her local clients, Buckle was aware she would attract a new group with the internet's greater reach. Buckle wanted to ensure each class participant felt they were getting individual care and the same high-quality class that was offered in the studio.
Start small: Buckle started by offering a test run, sharing a free public link, leveraging Zoom, where 37 people across Canada and the United states joined. While the physical studio had a cap of 24 people, she was thrilled with the turnout!
Test, learn, improve: To enhance the customer experience, Buckle noticed participants may have been unfamiliar to virtual classes and could benefit from pre-read material. Thus, Buckle decided to offer clear steps and tutorial videos making the transition to virtual classes easy! Buckle also requested feedback in order to better meet their needs and improve their offerings. She continues to find ways to make the transition to virtual classes as smooth as possible by engaging in 2-way conversations on Namaste's social media accounts, explaining their trial offerings and successes, and requesting feedback to improve their overall experience.
Differentiate: Differentiating her service offering is critical when so many yoga studios are beginning to offer online classes. Buckle replicates her Zen atmosphere by playing music, lighting candles, and conducting the class from her home. This also helps create a more personal connection with her participants sharing bits of her personal life including her home furniture and pets. Replicating the in-studio experience, consumers continue to feel a personalized experience – "They felt they were being spoken to directly and they felt connected."5 Buckle believes that offering virtual classes is the best way to help ease people's stress levels during this pandemic and keep her business alive.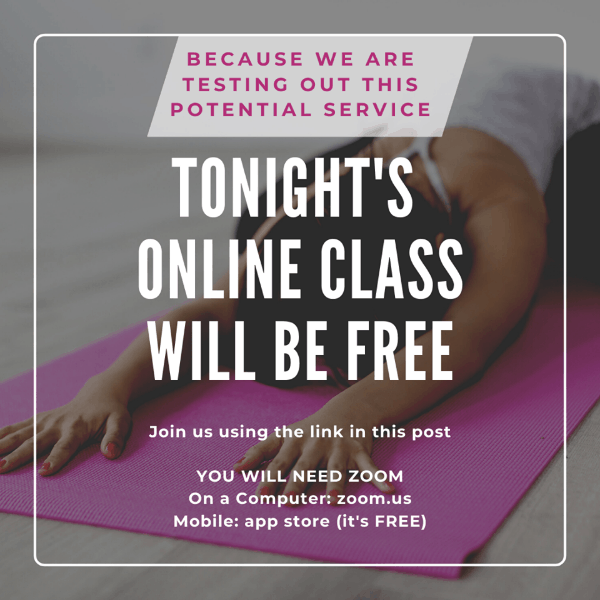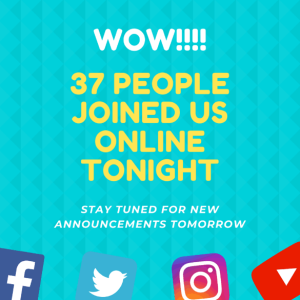 ---
References
[1] Jr., T. H. (2020, March 23). How small business owners are coping with COVID-19 pandemic: 'It was my civic duty to be a part of the solution'. Retrieved April 10, 2020, from https://www.cnbc.com/2020/03/23/how-small-businesses-across-us-are-coping-with-covid-19-pandemic.html
[2] Weintraub, M., Verma, S., Chandru, S., & Nolan, K. (n.d.). Covid-19 Voice of Canadians and impact to retailers. (C. Alexander, D. Hillier, D. Rowe, L. Zufferli, M. Robitaille, J. MacLeod, … S. Goodman, Eds.). Retrieved from https://www2.deloitte.com/ca/en/pages/finance/articles/covid-19-voice-of-canadians-and-impact-to-retailers.html
[3] Shekar, S. (2020, March 23). Small businesses in survival mode turn to e-commerce as coronavirus spreads. Retrieved April 9, 2020, from https://ca.finance.yahoo.com/news/small-businesses-in-survival-mode-turn-building-ecommerce-sties-as-coronavirus-spreads-191902100.html
[4] Crocker, D. (2020, March 16). Corner Brook yoga studio going to online classes in response to COVID-19: The Chronicle Herald. Retrieved April 8, 2020, from https://www.thechronicleherald.ca/business/regional-business/corner-brook-yoga-studio-going-to-online-classes-in-response-to-covid-19-424966/
[5] IBID