COVID-19 is a global pandemic that is fundamentally changing our way of life and adversely impacting global economies. Markets are falling and even Fortune 500 companies are aggressively laying off workers as they enter full crisis mode.
While an economic downturn is an inescapable reality, many experts predict that COVID-19's impact on the economy will follow either a 'V' or 'U' trajectory. Most economists do not expect the economy to enter a sustained depression. The debate that remains amongst economists is the speed at which the rebound will occur. This forecast increases the imperative for companies to act purposefully and manage costs, assets, and channels in a way that doesn't sacrifice their future growth potential.
Over the next 6-12 months, the economy and almost every industry will move through 3 distinct phases: downturn, stabilization and normalization, and rebound. Each phase and industry comes with a different playbook that leaders must follow to best position their company for long term success. Currently, the North American and European economy is in Phase 1 of this process, while Asia is in Phase 2: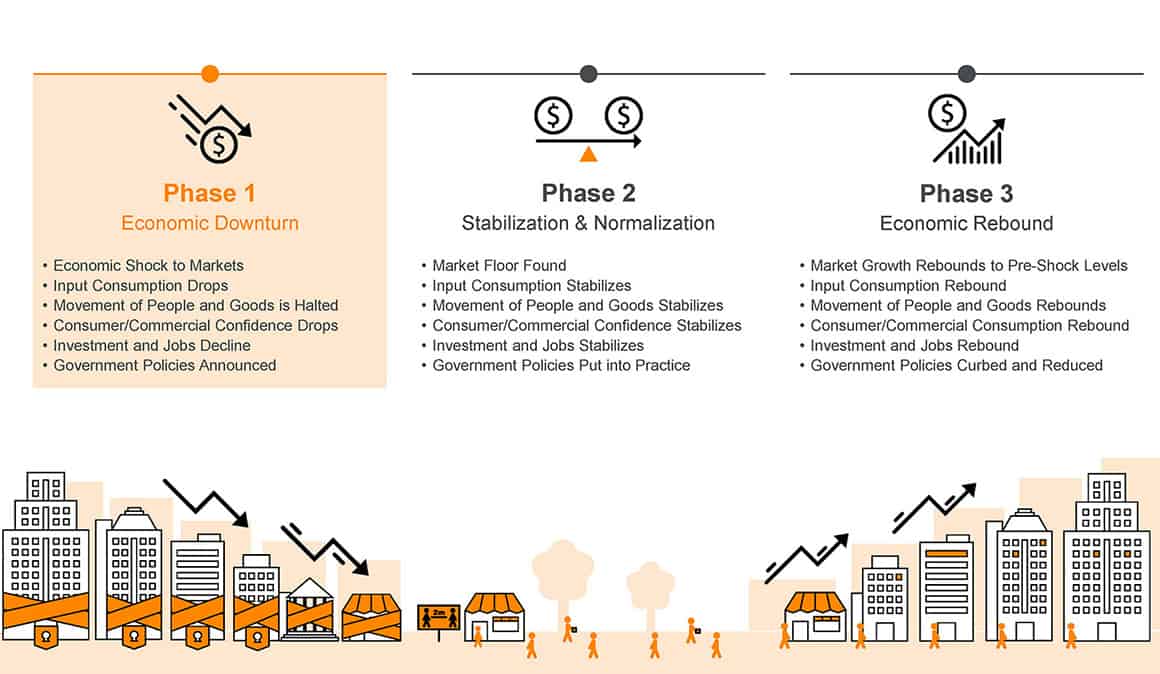 The business that will survive and emerge as winners will quickly adapt to this new (temporary) reality and make short-term tactical changes while translating successful adaptions into long-term pivots for their business model. These winners will minimize their losses and risk while preparing their organizations to capitalize on the economic boom that will occur during the Phase 3 rebound.
So, how do strong leaders translate this perspective into action?
In times of great uncertainty, there isn't an obvious solution. Leaders cannot brush the dust off their textbooks and refer to the last time a global pandemic disrupted a hyperconnected market. There is no template for this scenario.
That said, there is an obvious wrong answer. Companies who turn to over-aggressive cost cutting, through layoffs and property, plant and equipment (PP&E) sell-off, have historically had significantly longer recovery curves1. When the inevitable rebound occurs, these companies do not have the required means to regain share. Level5 believes that companies who adopt an agile and adaptive approach – the constant prioritization of business needs vs. market realities – across all three phases will be the ones who are most successful over the long run. Leaders need to be comfortable with the prospect of pragmatically weathering the storm (while still identifying tactical needs and opportunities) and then regaining share.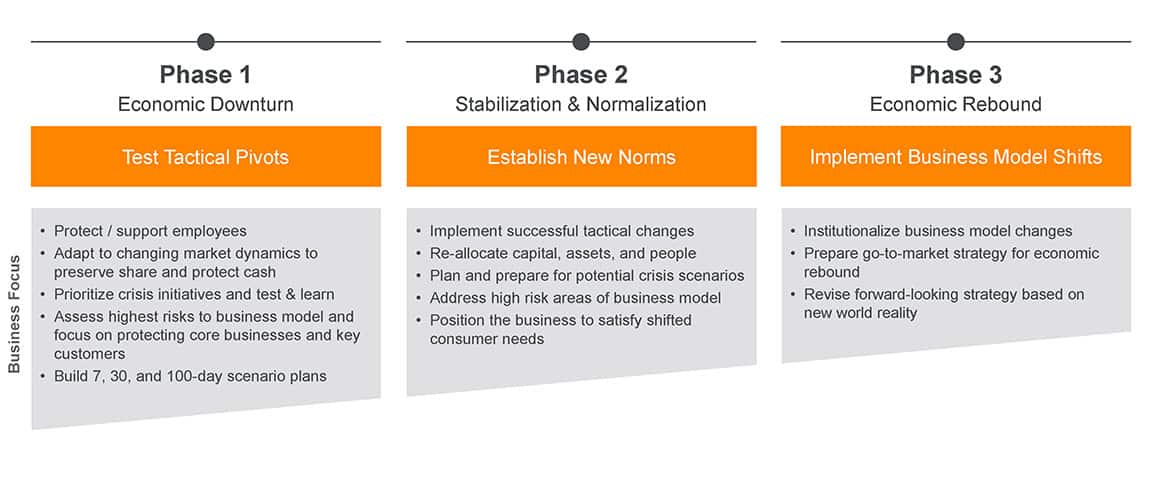 In our restructuring experience, the playbook consists of the following areas to help both B2B and B2C leaders maximize their resources and protect their financial viability, while positioning themselves for future market share growth. Fundamentally, these areas are about optimally leveraging companies' current assets and people with a view of what the new normal will be, not cutting costs too deep reactively and then determining how best to emerge. By engaging in tactical pivots or business model shifts, companies do not mortgage their future success for their current survival. Rather, they efficiently leverage or repurpose their assets and people, allowing for increased success upon economic stabilization and rebound.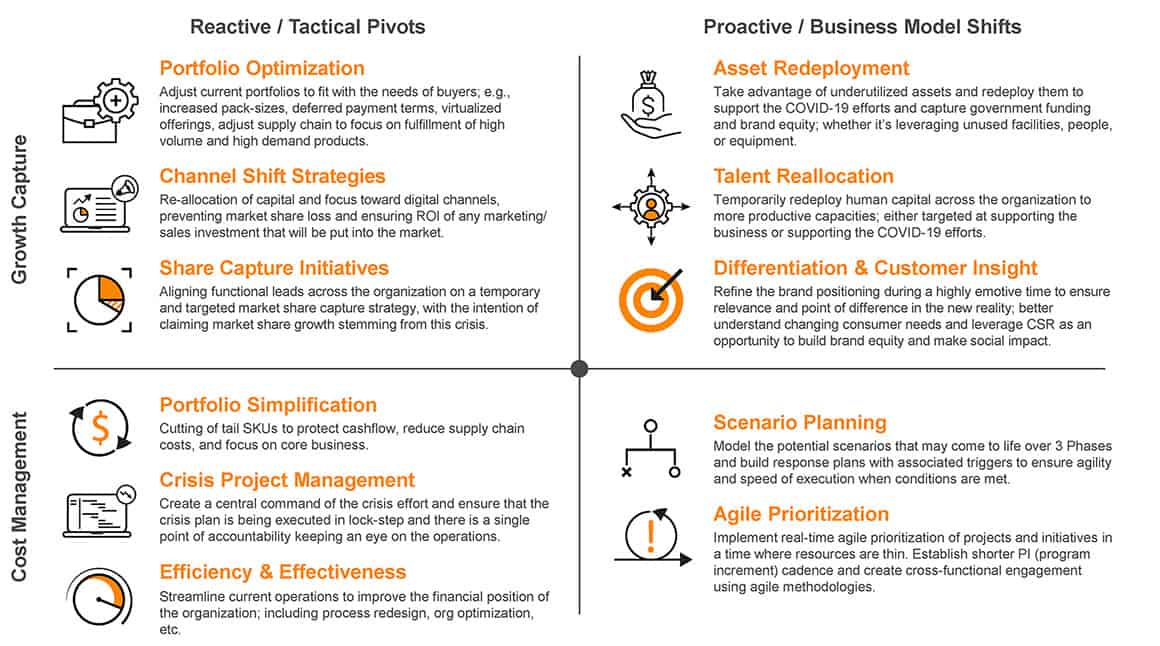 While the points of focus employed during a downturn, stabilization, and rebound are similar, leaders must adjust their focus and priorities based on the phases of economic recovery and their circumstance. Initially, cost management and protecting cashflow take priority over growth. By adopting an agile methodology, companies can repurpose their assets and focus to manage costs. As businesses feel more certain about the future, their focus should begin to shift towards growth capture. Similarly, as organizations scramble to protect their business in the early stages, the focus is primarily on tactical pivots. As the economy moves toward Phase 3, that focus shifts toward growth capture opportunities.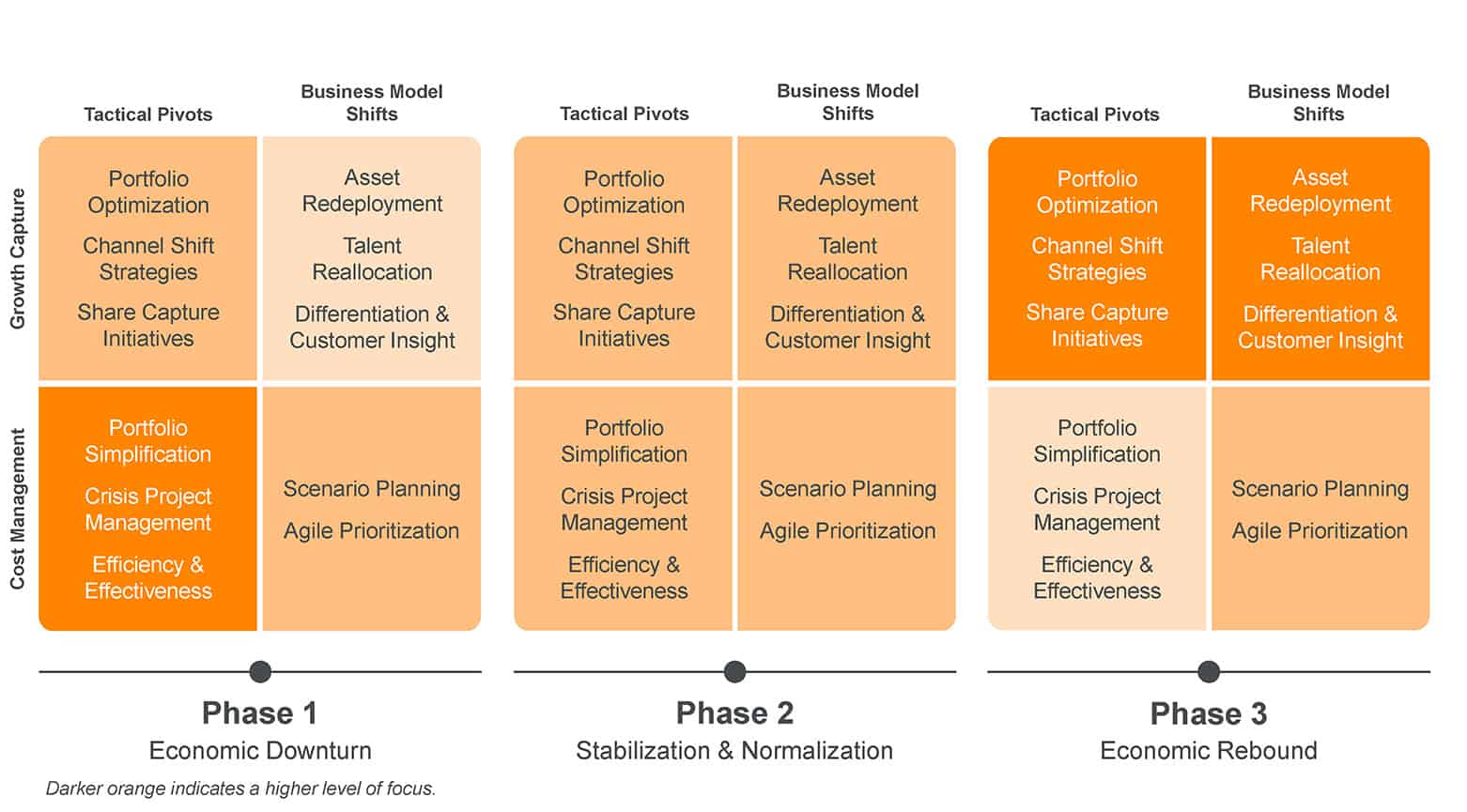 Every challenge of this magnitude brings with it equal parts risk and opportunity. The leaders that will guide their businesses through the storm and emerge in a stronger relative position than before are those that understand the interplay between the priorities outlined in the charts above, and are able to inspire their teams to move quickly and purposefully between the right strategies within each phase.
If your organization could benefit from additional insight, agile skills, and guidance through this time of need, we are here to help. Our approach enables us to seamlessly integrate into your leadership team to drive the crisis agenda, expedite decision-making, and provide confidence and clarity around important asset, portfolio, channel, and customer choices. We recognize that most business contingencies didn't plan for this level of change and there exists a high degree of financial uncertainty potentially making it difficult to source the help you require. We understand. We are here to help you stabilize and operate within this new norm. Our firm has created flexible billing schedules to meet your needs.
We are happy to have a virtual whiteboard session to review your playbook. Please reach out to
Sean Pavlidis
or
Claude Ricks
by clicking one of their names.
---
References