At Level5 Strategy, we believe that the most successful branded businesses understand the Value of a Promise Consistently Kept™. Truly great brands gain a firm understanding of their marketplace's drivers, make a compelling promise to their customers, and rally their organization to consistently deliver upon this promise through operating standards and rigorous measurement processes. This strategy starts with an understanding of the most powerful emotional and rational value drivers, both positive and negative, that your customers associate with your product or service. In this time of rapid and profound change, it's increasingly difficult to keep up with your customers' needs and deliver with consistency. Business leaders must make it a priority to stay close to their customers and understand how the pandemic and ensuing economic recession will change how their customers view 'value' during this new normal. Jon Moeller, CFO at P&G, recently highlighted the need to keep up to date with changing consumer preferences during this pandemic on a recent P&G earnings call: "we need to stay very close to consumers and their habits, needs and desires, more now than ever". No category, sector, or brand will escape the imperative of change.
It would be an understatement to say consumers have gone through a rollercoaster of emotions these past few weeks. A recent sentiment tracker, published by our research partner Hotspex, confirms the hypothesis that Canadians' emotions are supercharged – and mostly negative – as a result of the pandemic and the social and economic chaos this crisis has generated. The most salient emotions that Canadians are experiencing are ones that we can likely all relate to; Canadians are "disappointed", "dissatisfied", "uncomfortable", "frustrated", and have "mixed feelings", among other emotions. Many of these emotions are to be expected and are something that we've all experienced. Canadians are also seeking out the positive emotions of "trust", "a sense of connection", and "feeling informed".
Exhibit #1:
Canada: Emotions as a result of COVID-19 | May 4th—10th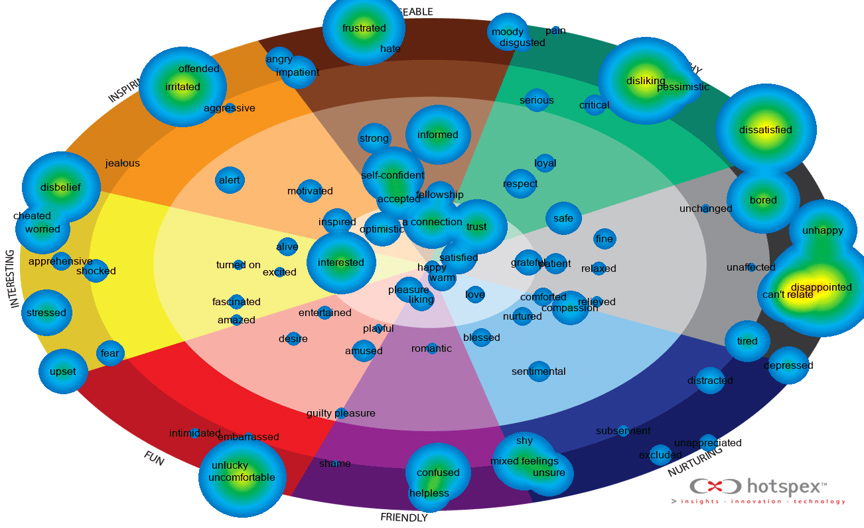 The question is, what does this mean for organizations? How will brands need to change the way they communicate, engage their employees, and bring their brand experiences to life?
In turbulent times, consumers have always flocked to the brands they "trust", those that are "relevant" to their needs, and those that they "connect with" emotionally. The brand heatmap below indicates that consumers are seeking brand connections that generate feelings of "a connection", "trust", "satisfaction", "liking", "interest", "optimism", and "being informed". In particular, the emotions of "trust", "relevance", and "a connection" have never been more important for brands and brand driven organizations – most likely as a comforting foil to the negative feelings customers are experiencing. Perceptions and wants are one thing – but how does this translate to what drives action toward your brand? As the drivers of value evolve, what are the implications for your brand positioning, your promise to customers, and your ability to consistently keep that promise, all in the face of profound, 'once in a lifetime' change?
Exhibit #2
April 6th – April 12th 2020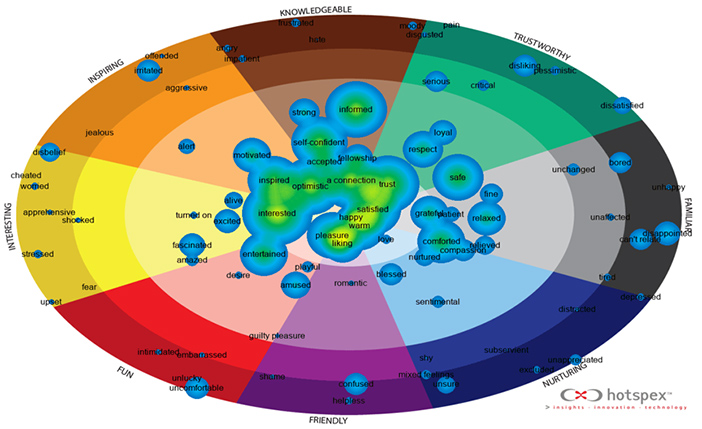 April 20th – April 26th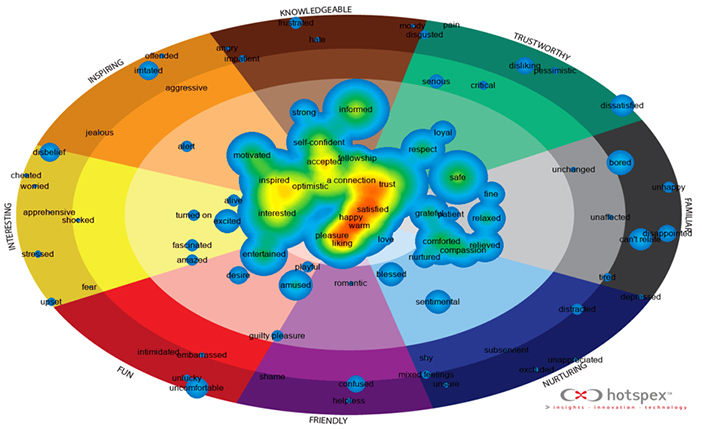 May 4th – May 10th

The research from the Hotspex sentiment tracker uncovered that in this time of uncertainty, there has also been a rebalancing of attributes from the Interesting and Inspiring zones (left side of the map in Exhibit #2) to what we would consider the "comforting" zones – Knowledgeable, Trustworthy, Nurturing, and Familiar. This has tremendous implications for brand leaders.  Across the many categories we have measured and built strategies and customer experiences for, we rarely see drivers of behaviour have an importance rating this high.  For context, witness the profound change in the retail grocery experience. Pre-COVID, grocery shopping occurred almost exclusively in-store, providing an inspiring, multi-sensory experience in celebration of food and food preparation. Now, if shoppers even go to the store, they are confronted by an extremely stressful, safety-driven experience, requiring them to dawn masks, follow stringent shopping orders, and get in and out as quickly as possible. Given a choice, many consumers would rather shop online and have their groceries delivered. Operating standards have been upended, business models transformed, and new capabilities built on the fly.
Is your brand and your business prepared to effectively respond to this once in a lifetime event?
Further Hotspex data is also showing that 70% of Canadians are being slightly/much more cautious with how they spend their money. In fact, 39% of Canadians are trying to save as much money as they can, with many focusing on just the essentials. This is indicative of the profound COVID created economic recession that we are embarking on. Going forward, there will be major implications for brands as a result of changing consumer loyalty and preferences. For instance, the North American beer market has experienced measurable volume shifts from craft to mainstream beer products in just a few weeks – driven by the premium price point of craft beer as well as lower levels of accessibility (due to stay-at-home orders). While many breweries have made efforts to pivot to the areas of "comfort" and "safety" through curbside pickup, home delivery, shifts in packaging, and production of items like hand sanitizer, the impacts are felt nonetheless. Organizations such as these must determine how they can provide good "value for money" during this recessionary period along with the emotional attributes of trust, reliability and relevance.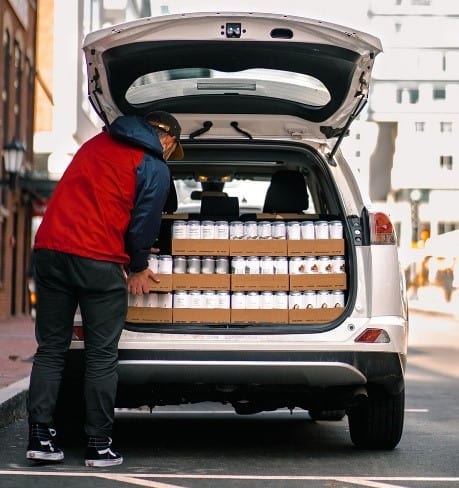 As these sorts of seismic shifts persist across industries, it's critical that brand leaders immediately step back and reassess their value propositions and customer experiences. By doing this, brands and businesses will be able to more effectively weather the storm and emerge from the other side with higher levels of consumer loyalty.
In summary, we encourage organizations to immediately consider the following questions:
How has your category's drivers of behaviour shifted with the pandemic and impending recession?
Is your organization's pre-COVID brand positioning, value proposition, and brand promise still relevant? Has COVID presented an opportunity to take market share from others?
How might you need to rebalance your value proposition to account for new consumer demands such as

trust, safety and, connection?

What are the implications for your brand's customer experience, marketing, and perhaps even

your organizations business model?

Do your employees and key decision makers know what is important to your customers and do they have the core capabilities and training to deliver upon a new customer experience?
In partnership with Hotspex and leveraging their ongoing sentiment tracker, we will continue to distribute updates and implications that may be important to your business.
---
References