Customers have endless choices that are personalized across channels, offered on interconnected platforms, and can be accessed anywhere, any time from their smart phones. The stakes are high as companies compete for attention and share.
The credit card industry in Canada is no exception. It is mature, fragmented and highly competitive. Customers are savvier and more sophisticated than ever – they do their research to confirm the best value which translates to high expectations and low levels of loyalty. Some even go as far as to "game" the system, having a portfolio of cards for specific rewards and uses. Cyclical renewals establish the idea of switching and exploring new cards as effortless and valuable. With multiple cards in customer wallets, credit card companies are in constant battle for top of wallet share.
Providers must deliver differentiated value propositions and build emotional connections that transcend typical product lifecycles. This value is delivered to customers through strategically designing and actively managing the customer experience. There is a strong business case for doing so. Customer centric businesses are 60 percent more profitable than their peers, and those that offer brands with superior customer experiences drive more than five times the revenue for the business.
---
Key CX Trends for Canadian Credit Cards
The key CX trends amongst leading Canadian credit card providers are unsurprising, but they appeal to customers from emotional and rational perspectives.
Simplification: The rise of digital and proliferation of mobile applications means customers expect straightforward processes, integrated experiences, and quick service at their fingertips. Customers need simplicity and expect to do all activities in one place, meaning limited tolerance for additional steps or confusion. As such, leading credit card providers are focusing on offering interconnected services on their platforms, that fulfil a variety of needs such as making transfers, redeeming credit card rewards, reaching investment accounts, and checking mortgages all in one place. For example, neo banking is on the rise, with players like EQ Bank, Canada's first digital-first bank, offering a small, simple, and straightforward portfolio of products.
Personalization: Customers, especially younger demographics, expect personalized insights about their spending behaviours and customizable rewards and promotions. To build loyalty and trust in these segments, companies must offer tailored and integrated experiences that consider customer needs and interests, across channels. Leading credit card providers are personalizing customer experiences through fee specific structures, partnering with companies to deliver rewards (i.e. travel, cash back, coffee) and offering chosen benefits. Leveraging insights and personalizing the experience makes customers feel their bank or card knows and understands them, allowing the bank to demonstrate value.
Stronger, together: We've already seen major players engage in both practices. For example, CapitalOne has a personalized online shopping integration that automatically applies coupon codes, compares prices, and allows cash back towards preferred gift cards. The card also has a branded virtual assistant tool providing clients access to alerts related to card usage, education resources about card perks, and support assistance. This offering is available through the app, browser, SMS texts, emails, and smartwatches.
Impact on Canadian Credit Card Providers
So, what does this mean for your business and your customers?
Organizations are increasingly accounting for CX in their organizational KPIs and prioritization decisions – sharing the spotlight with ROI. Net Promotor Score (i.e., NPS) has emerged as the primary CX measurement. As leaders who are accountable to deliver on NPS, it is critical to understand what drives it and how to design experiences that maximize lift.
Building a simple, connected experience may seem obvious yet the struggle is understanding exactly where to focus to unlock the greatest value of their customer experience investments. Attracting new customers is expensive, which makes loyalty important for Canadian credit card providers. And customers expect you to keep up with trends in the sector. So, the question is: if we cannot do it all, how do we prioritize?
And the answer is: understanding rational and emotional drivers, where they are expected in the journey, and how they differ among varying customer segments.
In a crowded market you need to find your white space. What works for some might not work for others. Not all moments are the same. Delivering exceptional experiences at every touchpoint is not financially prudent or necessary to differentiate yourself from the competition. Organizations must focus on those moments that matter most.
Level5 Approach to CX
Level5 works with Canadian credit card players to identify optimal customer experience strategies, leveraging our suite of proprietary emotional science research tools. We work together to build journeys that deliver key emotional and rational benefits in critical moments of truth that matter most to customers.
Level5's unique approach combines data analytics with emotional science research to quantify and maximize the impact and return of CX investments. In doing so, we identify areas of focus in the journey and design experiences that deliver specific emotional and rational benefits that drive NPS / Loyalty / Purchase.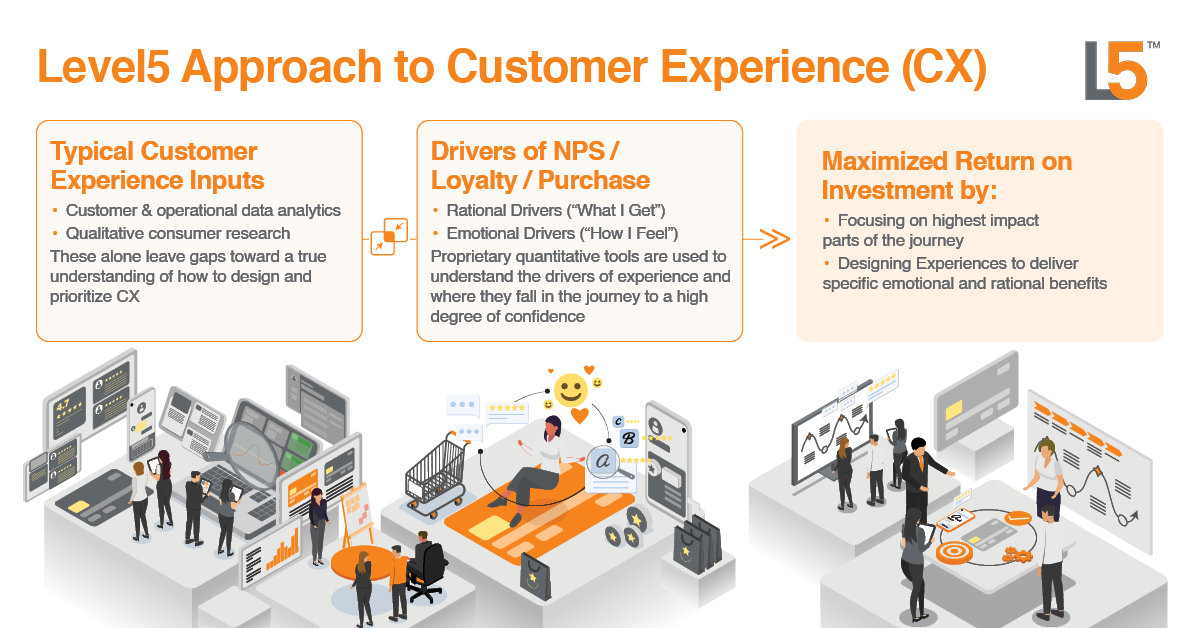 With so many brands competing to be the primary card of Canadian customers and most players adopting new CX trends to differentiate, your brand needs an approach to customer experience that leverages data analytics and emotional science to deliver drivers at the right time throughout the journey.
---
Is your organization allocating the right resources to deliver a customer experience at the key moments of truth? Use this simple diagnostic tool to find out.
Level5 is a leading boutique management consulting firm. We work with leading North American financial brands leveraging our suite of proprietary emotional science research tools to understand drivers of consumer decision making. Contact Ian Madell, Evin Demirli or Kenton Vermeer for more information.