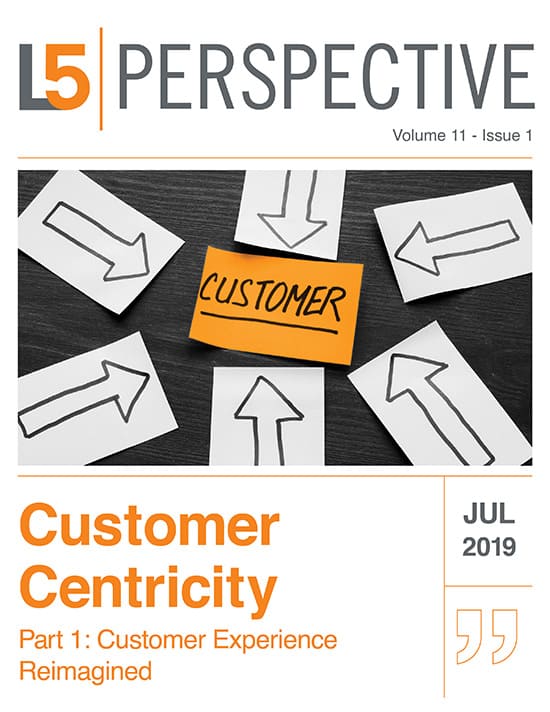 "Rational and emotional drivers of a brand are crucial for customer experience design and customer centricity success." This first of a three-part series takes a closer look at "The Irrationality of Delight" and "Journeys in Isolation," showcasing the interaction points and customer needs that matter most.
---
Customer Experience Reimagined
The business world is buzzing with the concept of customer journeys. They're all the rage across most, if not all industries: from retail to financial services to consumer packaged goods – and, believe it or not, even government services. Journeys are as in vogue today as continuous improvement and process re-engineering were in days past. While popular business topics often become generalized and overplayed, a number of them are important. When refined, they endure for good reason.
The reason customer journeys will continue to endure is their impact on customer experience. Organizations are realizing that delivering effective customer experiences is critical to establishing competitive advantage, thereby improving loyalty which feeds revenue and market share growth. Said differently, customer journeys help facilitate a more customer-centric organization; they're a tool that enables a business – B2B and B2C alike – to understand customer expectations and align itself with these expectations (this also applies to stakeholder expectations, depending on the nature of your industry).
It is often said that "a good strategy implemented poorly is a bad strategy." In the case of customer journeys, a poorly implemented strategy often looks like a "boil the ocean" approach that attempts to delight the customer at every step along their journey. Equally ineffective is when customer journeys are created in isolation of the brand promise, or the operational accountabilities needed to bring them to life.
When implemented effectively, organizations are able to clearly define a promise to the market AND keep it consistently. When combined with channel strategy, a focus on customer experience leads to an integrated omni-channel experience.
1. A Closer Look: The Irrationality of Delight
You'll often see literature that presents customer journeys as a way to understand how a customer interacts with your organization in a given set of circumstances – whether it's a purchase journey, an acquisition journey, etc. Journeys typically outline what a customer is thinking at various stages of interaction (at various touchpoints) and highlight key moments of truth (MOTs) and pain points (PPs). Most of these journey analytics are based on rational wants and needs, i.e. what benefit a customer receives from interacting with your goods and/or services.
This data is often attained through qualitative or ethnographic research. Organizations with more nuance will parse this data by key customer segments, creating a constructive, segmented view of how customers interact with their brand. This line of thinking often leads to the notion of "delighting" customers which can be problematic as it is often taken too far. Looking to delight customers across their journey and trying to achieve "top marks" at all stages is a phenomenon we call the "irrationality of delight."
The problem with this phenomenon is that an organization is trying to overachieve all the time. This isn't just a waste of time, but a waste of money and organizational effort. The root cause of this issue is an implicit assumption that the customer wants and needs perfection (and then some) at every step of their experience. It's not that this type of journey nirvana wouldn't be a good thing from a customer perspective; it's just that it's unrealistic from a delivery perspective across a number of channels and touchpoints.
Fundamentally, the desire to perfect the journey stems from an insufficient understanding of customers' emotional needs. These emotional needs include what customers, across segments, feel by interacting with your goods or services at the key MOTs and PPs. Emotions are known to drive action, increase loyalty, and influence purchase decisions. Without understanding the emotional side of the equation, we're missing half of the picture.
Layering both rational and emotional drivers into the journey is critical for prioritizing and optimizing management of the experience. By understanding the emotional drivers (in addition to the rational drivers) we can laser-focus our efforts – in terms of what matters and where that is emphatically brought to life. This leads to a targeted approach; it doesn't lead to boiling the ocean.
The question is: if we can't do it all, how do we prioritize? We prioritize by understanding rational and emotional drivers, and identifying how these drivers relate to customer expectations.
Figure 1: Rational & Emotional Drivers by Category
The few moments that matter most… and the many where table stakes do just fine!
At Level5 Strategy, we focus on improving customer experience by focusing on the interaction points and customer needs that matter most. The prioritized interaction points are determined through the lens of the customer and are most often the points where emotional needs are met.
When organizations look to develop an understanding of their current customer experience, and opportunities to improve it, they're fundamentally seeking how to best align their brand with customer interactions. In other words, organizations want their brands to equate to the journey their prospects and customers experience.
The interesting part about customer journeys is that some parts along the way truly mean more than others. Some are critical, some are important, and some are "nice to have." It's these expectations that organizations can and should use to help prioritize how they improve the customer experience. Organizations should leverage the journey to identify what really matters and focus how far they must go to meet customers' expectations. We refer to these points that really matter as Moments of Truth. In other words, get these moments wrong and you seriously risk losing a prospect or customer. Get them right and you build brand loyalty. Organizations don't have to delight customers across all points of their journey – just those that matter most to the customer. That said, there may be other points where the expectations are at "table stakes" levels but an organization's performance under-delivers. Investment at these points is needed as well.
Evaluating touchpoints based on whether they're moments of truth and/or pain points, and how organizations perform relative to customer expectations is a critical way to prioritize where resources must be spent. It's not that other touchpoints shouldn't be managed, it's simply that they don't need to be prioritized in terms of over and above spending, fixing, resources deployment, etc.
Matching operational implications to the needs and expectations your customer has during their journey at particular touchpoints is a critical step in leveraging the journey effectively.
Figure 2: Aligning Touchpoints with Customer Expectations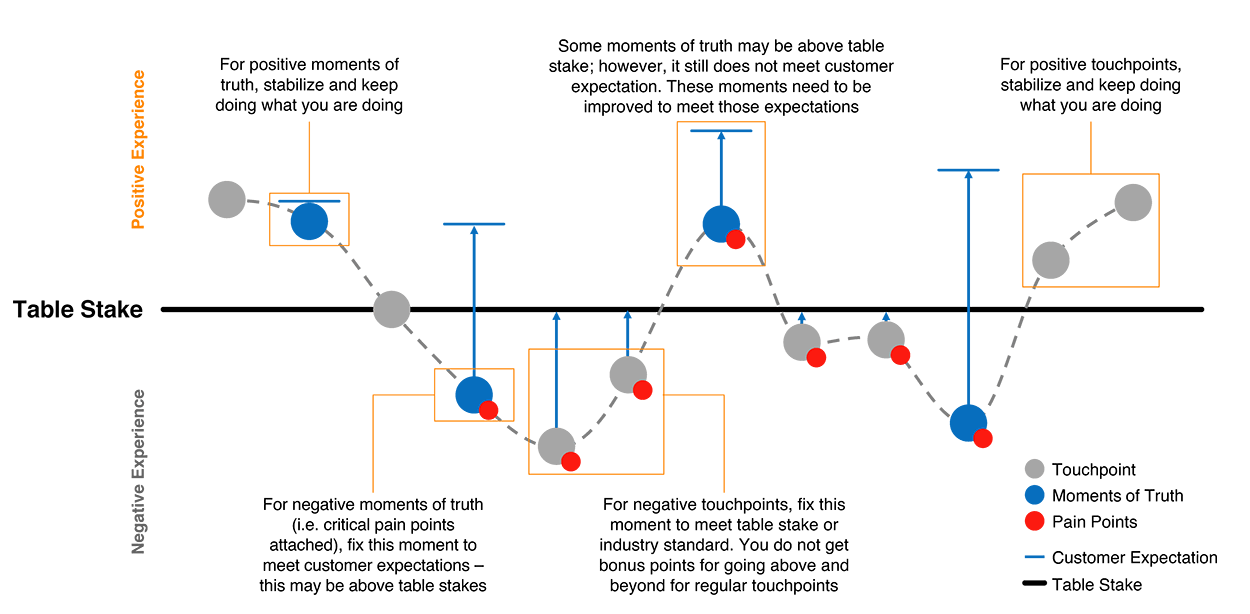 2. A Closer Look: Journeys in Isolation
The trouble with journeys is that they're often developed in isolation. As products of a marketing or front-line operations role, they serve an isolated need and stop short of impacting the broader customer experience and the business system that supports it. It's not that an understanding of the customer journey can't serve to improve marketing or front-line work; it's that this stops short of the power and impact that journeys can have – especially in orienting an organization toward operationally measuring customer experience and using these new insights to drive customer experience improvements.
Historically, organizations have been reactive in their approach to garnering value out of journeys1. Those that lead today are taking a more proactive and aggressive stance on leveraging journeys to improve customer centricity at an individual touchpoint level, and are fundamentally changing how they operate, organize and innovate.
With a high bar set on why customer journeys are valuable and how to think about them, we inherently seek to understand what those journeys mean from an operational lens. We do this by identifying the organization's business process model and matching it to the journey (see Figure 3). We then start to ask key questions such as:
Which groups are responsible (or which groups are related) for the touchpoints identified in the journey?
Are there individual levels of accountability for key moments?
Does the owner of the performance metric for a specific touchpoint have the ability to influence or improve the process(es) that impact the specific customer experience?
Are there gaps in our business process model where certain touchpoints are not actively managed?
This view of the business in light of the customer's journey allows for clear delineation of responsibility in delivering the customer experience. If process ownership seems incorrect or unclear, we work to refine it. 
When we work with clients in workshops and meetings, we do our best to simplify these concepts as much as possible. We focus on the real issues, not the jargon and background complexities. We have found that simplifying these concepts to their core allows our clients to discuss the root of the issues and not get caught up in varying understanding of "consultant speak" language. Our experience has shown that clients have different levels of comfort with concepts such as journeys, and we take that into account. To this end, we like to leverage easy-to-understand graphics that make talking about this model easy to do. 
Figure 3: Customer Journey with Circles & Squares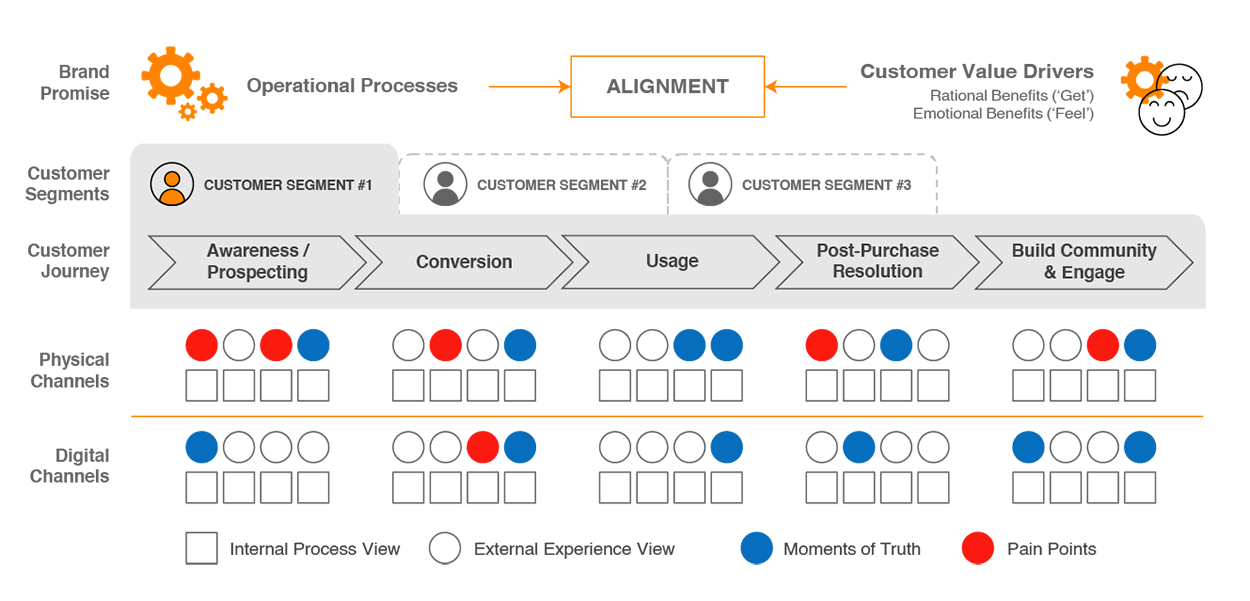 This model starts at the top with an outline of the customer experience across the key phases of the journey in question. We identify all major touchpoints (denoted by circles) and highlight moments of truth or pain points. We then outline the processes (the squares) and owners accountable for delivering those touchpoints. This enables us to use simple and intuitive visuals to uncover important, nuanced insights:
Does process and accountability match with the customer journey?
Is the organization clearly managing each part of the customer experience, especially the MOTs?
Stepping Back and Starting at the Beginning
We tell the customer centricity story using three key models – journey map with expectations, business process model, and circles & squares. The key to pulling these elements together doesn't just lie only in making them understandable and implementable, it also lies in making sure they align with the rational and emotional drivers of the brand across the business. We briefly touched on this earlier but it bears repeating – rational and emotional drivers of a brand are crucial for customer experience design and customer centricity success.
When we look at the operational aspects of any customer experience, we ensure that they tie closely to the factors driving the brand in question. This requires a deep, up-front understanding of brand drivers and, particularly, a focus on the emotional brand drivers – those that drive action and loyalty and are often overlooked in the customer centricity landscape.
In our next paper, we will build on the concepts outlined here and summarize how we think about rational and emotional brand drivers. More importantly, we will outline how we connect these drivers to the design of customer experience. Connecting all of these dots helps drive ultimate customer centricity – linking the customer's wants and needs with the capabilities, accountabilities, processes, and intangible equities of the organization.
---
Authors
---
References
---
Part 2: Designing for Customer Needs Where and When It Matters Most >>